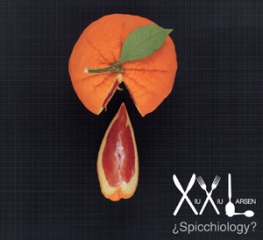 Xiu Xiu Larsen - ¿Spicchiology?
Ein klitzekleines bisschen geschwächelt hat sie im Jahresverlauf ja schon, die zweite Kollaboration der US-amerikanischen Avantgarde/Post-Pop-Band Xiu Xiu mit den Italienern von Larsen. Was zugegebenermaßen weniger an "
¿Spicchiology?", als an einer sehr starken zweiten Jahreshälfte lag. War das Album zur Jahresmitte sogar mal Anwärter auf den begehrten Thron, hat es sich nun immerhin noch souverän in den Top Ten platziert .
Das dunkel-schimmernde Werk ist sicherlich die zugänglichste Arbeit, die Xiu Xiu-Sänger und -Tausendsassa Jamie Stewart mit seinen Freunden bisher präsentierte. Auf Songbasis ist das wunderbare "Little Mouse Of The Favelas" das bestes Beispiel für diese Feststellung: ein verträumtes, flackerndes, engumschlungenes Duett Stewarts mit Xiu Xiu-Sidekick Caralee McElroy, das durchaus für mehr Aufsehen hätte sorgen dürfen, als lediglich unter einer Handvoll Connaisseuren heiß und innig geliebt zu werden. Die zweite Hälfte von "¿Spicchiology?" verlässt den Pfad der Versöhnung indes etwas und bietet besonders mit dem Ambient-Track "What About Dwarves?" und dem überlangen "The Tale Of Brother Cakes And Sugar Dust" (mit Klangschalen, Gongs und Akkordeon verfeinert) jene Art der Bewusstseinserweiterung, die man - wenn auch in weitaus schrofferer Form - von den frühen Xiu Xiu-Alben gewohnt ist. Vor allem letztgenannter Song ist der alles überstrahlende, sich unentwegt nach oben schraubende Schlusspunkt einer durch und durch sympatischen und famosen Platte.